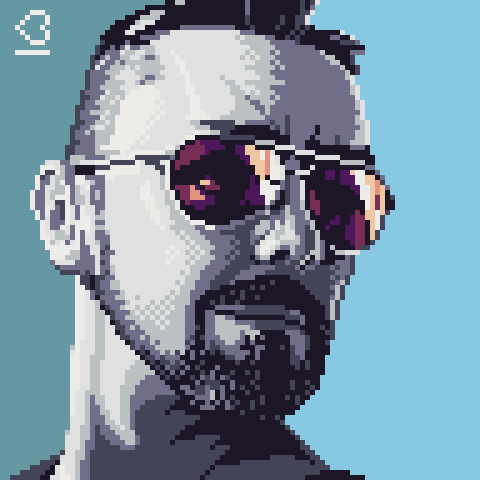 My name is Kevin Houlihan, and I'm an independent game developer and pixel artist from Ireland. I first became interested in pixel art from doodling sprites on my Amiga 1200 sometime in the early 90's, and picked it up again more seriously in 2015 as the aesthetic of choice for my games. I like to explore different styles, including realistic styles reminiscent of traditional art, and the more abstract styles of videogames.
This portfolio is influenced by the ideas of Matej Jan on displaying art on the web.
Art
This is the ideal place to view my pixel art, but most of it is also on DeviantArt, along with a number of non-pixel works.
I do time-lapse videos of my process for the pixel art that I do.
My art is available for printing from a number of Print on Demand sites:
I'm open to discussing commissions.
Games
You can play some of my games on itch.io and GameJolt.
All of my games so far are short jam games. My long term project is called Just a Robot.
Contact
You can email me if you have any feedback on my art, want to offer me some work, or if you just want to chat.
If you want to keep track of what I'm up to I have a mailing list. I don't post to it very often, but I will be launching my own storefront in the near future, and subscribers will get some exclusive offers.
I'm also on quite a few social media sites, so feel free to hit me up on any of them: